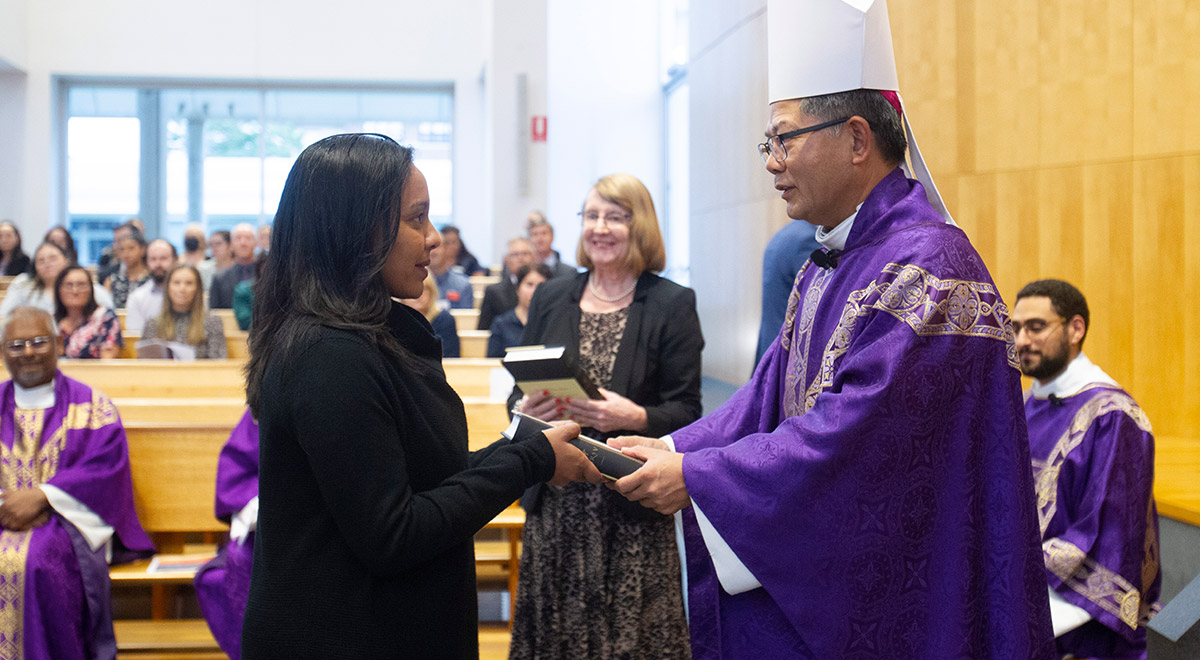 Beginning teachers and new school principals gathered for a moving celebration at St Patrick's Cathedral Parramatta this week. The annual Catholic Education Diocese of Parramatta Commissioning Mass is an opportunity for Bishop Vincent Long and Parish Priests to bless and welcome these dedicated staff to their new roles.
Bishop Vincent addressed staff as friends and colleagues in ministry through his homily. He spoke of education as a vocation, "a sacred calling to form students and communities under your care according to the values of the Gospel". Staff were reminded of their duty to accompany others like Jesus the teacher. "I believe that as educators, we have the opportunity to form a new generation that values the common good more than individual success," Bishop Vincent observed.
Catholic Education Diocese of Parramatta Relieving Executive Director Christine Howe began her working life as a Mathematics teacher at Parramatta Marist High and later served as Principal of Caroline Chisholm College Glenmore Park. Christine shared her own passion for the vocation of teaching as she welcomed everyone to the celebration, reflecting that new teachers and leaders have an extraordinary opportunity to make a contribution to the community through their work.
"I hope this is the start of the most fulfilling and rewarding life as you continue to work with children and young people across all our schools," Christine said to the many new staff who attended the Mass following a day of professional development for beginning teachers. "You have chosen an amazing career, one that I continue to love, one that has brought me great joy throughout my life and which I am sure is going to do the same for you."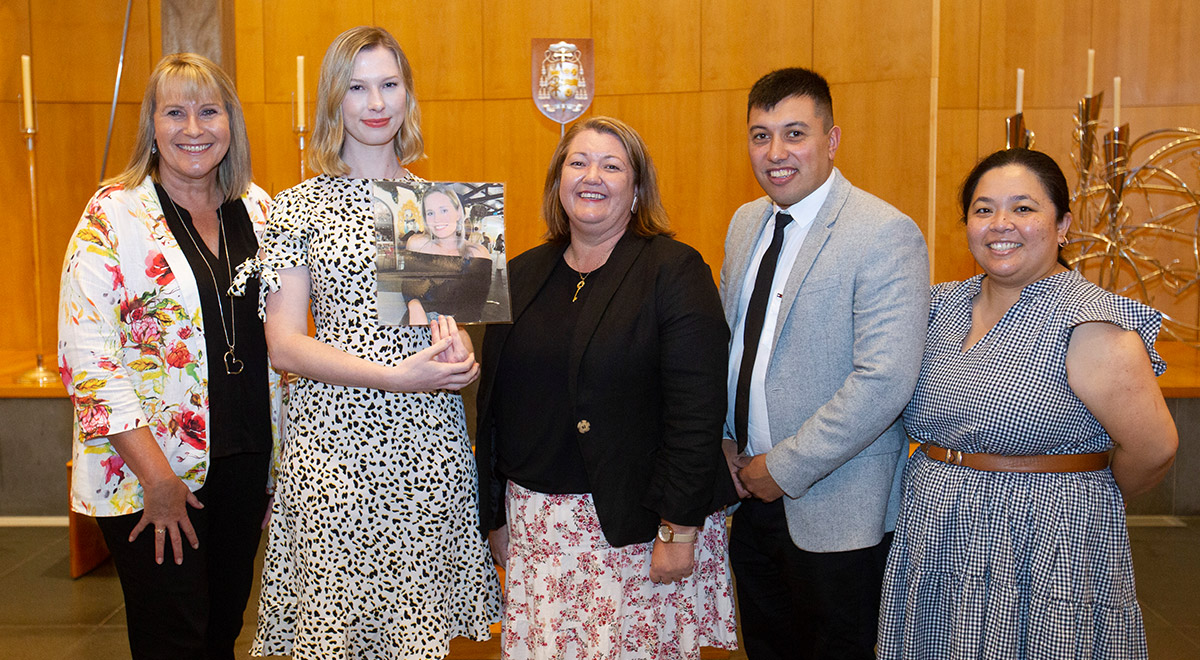 Paskal Laoulach is a Beginning Teacher at Holy Family Primary Emerton where she teaches Year 2. She loves working in this small and supportive school community, commenting that it gives her the chance to really see the difference that she and her colleagues make each day. Paskal was inspired to become a teacher by one of her own teachers, Pascale Joseph.
"One of my primary school teachers, Miss Joseph, has always stood out to me from my primary school years. Her passion and effort with our class inspired me to want to be the same way with my own class one day," Paskal said.
Paskal was surprised to find that her teacher was also at the Commissioning Mass, as Miss Joseph has recently been appointed as the Principal of St Oliver's Primary Harris Park!
"Being able to reunite with her and speak with her about how much she inspired me was a significant and emotional moment that I'll never forget," Paskal said. "Through my teaching career, I would love to be that same support for my students that I had in Year 3."
Pascale Joseph was just as moved by the chance encounter with Paskal, who she taught in Year 3 at St Margaret Mary's Primary Merrylands. In fact, she shared the story of the reunion with her own staff at St Oliver's Primary Harris Park the next day as a source of motivation.
"This is why I got into this work in the first place," Pascale said. "To inspire others to dream big and make a difference. Without meeting Paskal again, I wouldn't have known that I made an impact on her life like this."
Now that the two educators have reconnected, Pascale has encouraged Paskal to reach out and stay in touch. "I feel like things have come full circle," Pascale said. "This was such a blessing."
Beginning teacher Dannika Snell was also inspired by her own teachers in her vocation and feels lucky to be teaching Kindergarten at the welcoming community of St Bernadette's Primary Castle Hill. Her students benefit from her background working in early childhood education.
"I loved seeing how children grow and become independent beings from the moment they are given opportunities to learn and try themselves," Dannika said. "A goal that I have for my students is for them to feel like they are supported, happy, confident and involved learners both inside and outside of my classroom."
Since the beginning of 2021, there have been 7 new school principals and 159 new teachers at Catholic Education Diocese of Parramatta schools across Western Sydney and the Blue Mountains. The occasion was also an opportunity for new Catholic Education Diocese of Parramatta Director Capital Resourcing Sarah Alder and Director Wellbeing Dr Greg Elliott to be commissioned in their roles.
---
Read Bishop Vincent's Commissioning Mass homily at Catholic Outlook